We know how long you have dreamt of your perfect day. This is why we are committed to giving you the most personalized and memorable experience! When you arrive for your appointment at Cloud Nine, your personal stylist will welcome you to your own bridal lounge. We can't wait to meet you and help you find your dream gown, now here's a little about each of us…
Cloud Nine Bridal Team
WE ARE SO GLAD YOU'RE HERE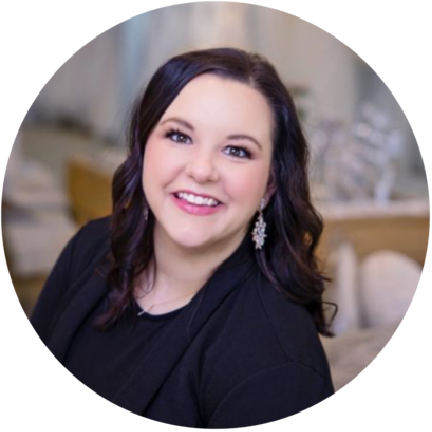 JENNIFER
OWNER
Jen has worked in bridal since 2007, and found her love for bridal at a big box retailer, but knew it needed to be different. She worked in another boutique where she fell in love even more. She knew this profession of work is where God called her to be. That position didn't work out, and Jen came to work for Cloud Nine in November of 2013 as a part-time Saturday girl. The previous owner came to her in October of 2018 and said she was ready to sell. Even as a single mom, she knew it was the right time for her. She borrowed money from family and friends to make this dream work. Jen has now owned Cloud Nine for 4 years, and says it was the best decision she has ever made.
She said, "I am blessed with the most incredible team. I can't imagine not serving brides on the most important day of their lives"
SHELBY
SALES MANAGER & BRIDAL STYLIST
I have had the most incredible experience being in the bridal industry! My very first job was planning and setting up for special events, specifically weddings. I've had the opportunity to learn from the most creative and talented local bridal professionals. I get so giddy over learning what each of our Cloud Nine brides overall style and assisting them find THE dress that encompasses who they are and the feeling she wants to evoke as she marries the love of her life. As a bridal consultant, there's nothing more rewarding than seeing the smiles on my brides face as they light up with confidence!
My favorite thing to see at weddings are the personal touches that mean something extra special to the bride and groom. Whether it's a meaningful song, writing their own vows, a homage to their fur baby (personal fav), or skipping the "traditions" to do a super unique reception entrance. Whatever it may be, it is so much fun helping brides visualize moments of their special day while wearing their dream dress!

My husband and I just celebrated our 1 year anniversary and we have a perfect baby boy at home as well as an orange fluffy cat. I found my ceremony AND reception dress at Cloud Nine!! As a family we love to travel, enjoy the outdoors, and spend time with our friends/family. When I'm ready to relax, find me watching a cooking or reality dating show. I've been a vegetarian for 10 years and always exploring new restaurant spots with unique atmospheres. I love trying new foods and flavors, and believe that it's possible to have a fulfilling and delicious meal without meat! Whether it's a cozy café or a trendy rooftop bar, I'm always on the lookout for the next great foodie adventure !

When you step into Cloud Nine Bridal you will see how much care and love we have for what we do. We love LOVE!!
The entire staff puts their heart and soul into each and every customer making sure they feel welcomed, listened to, and appreciated. I'm thankful to be a part of a killer woman owned business that gives back to the community and cares for their customers and staff the way they do!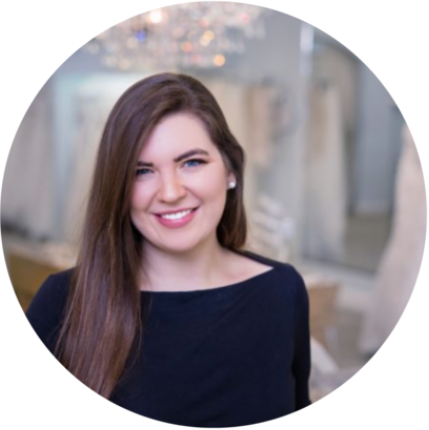 REBEKAH
OPERATIONS MANAGER & BRIDAL STYLIST
I started working at Cloud Nine in 2020 in the middle of all of the craziness! I have worked all sorts of jobs before (a farm, a car dealership, an insurance company, and I was an event coordinator and managed a venue), and I decided "well this feels like something I could do!". I knew when sheI walked in the doors that this is where I was supposed to be. As an avid hopeless romantic, helping brides feel confident, beautiful, and loved is my M.O. (and I love making new best friends in every bride I help)!
My favorite thing to tell brides to remember on their wedding day is to make time for you and your NEW hubby to be together! "My husband and I were able to leave the ceremony and go into a field to get photos before the reception and that time was so incredibly sweet. It meant so much to have that time before facing the masses". Speaking of, my husband and I got married in Oct of 2022, and we have one pup, Millie, and just bought our first home in Washington! My favorite things to do outside of work are: anything outside, thrifting, trying new places to eat, spending time in my Bible, and tackling whatever new craft or hobby piqued my interest on TikTok. My current favorite restaurant is Liberty Commons in Lexington, IL and I'm a bit of a coffee snob - but my favorite are the lattes my husband makes!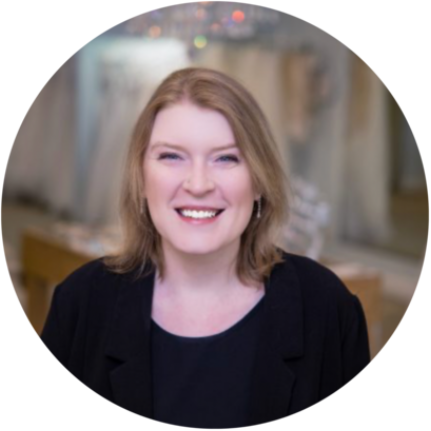 HEATHER
TUXEDO STYLIST
I attended IVC (go Grey Ghosts!) and entered the workforce right after high school. I always had interest in fashion and the bridal industry. I decided to give bridal a try after I completed a work program in childcare. I've now been doing bridal and tuxes for the past 17 years!

My favorite part of the wedding is watching the groom the 1st time he sees the bride walking down the isle. There's just something so magical about seeing the honest and pure love that comes from their expression.

I have been married now for 3 years and we have 2 fur babies, Sarah Sanderson and Salem. When I'm not working- I love to read, shop, craft, watch scary movies and go to comic/horror conventions.

My favorite local restaurant is Publik House- they not only have my favorite sandwich (The salmon BLT is absolute fire!) but also have the best bloody mary in town!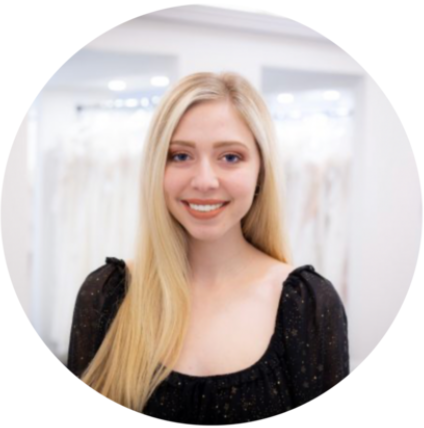 OLIVIA
BRIDAL STYLIST
I graduated from Bradley University in 2019 with a Bachelor's in Hospitality Leadership, and minor in Marketing. I've always LOVED the wedding industry and wanted to pursue a career where I could be a part of one of the most special times in people's lives. From day-of wedding coordination to event management, I've experienced many different aspects of what goes into executing a beautiful wedding full of priceless memories.

In 2015, I modeled in a fashion show for Cloud Nine at a local bridal expo. I had never visited the boutique before but was so impressed! Their dresses were, and still are so beautiful. Since then, I've known that this is where I want to say "YES!" to my own wedding dress someday. I've also been acquainted with the wonderful women who work here, and the current owner, Jennifer, for a while – they are all amazing! When I saw Cloud Nine was hiring in October of 2021, I was currently working at a local fashion boutique, but could not pass up the opportunity and immediately applied! I'm so thankful and blessed to be a part of this small business; it truly combines all the things I love - weddings, fashion, and small business. Being a part of my bride's "yes to the dress" journey is an honor to me, and it's SO special when they light up in their dress for the first time and realize it's the one. Also, making reels is fun :D

When I attend a wedding, I personally enjoy good music that encourages a fun and energetic dance floor! At my own wedding in the future, some must-haves for me are beautiful florals, videographer (in addition to a top-notch photographer), an intimate first look with my groom, and I also love the idea of a reception room reveal before the guests arrive.

I've been dating the most amazing man for almost 2 years, and I can't wait for our future together! I also adopted my dog, Prancer, from TAPS in January 2023 – he is the sweetest and keeps me on my toes! Outside of work, I enjoy spending time with my boyfriend and family, catching up on TV shows and watching new movies, and when it's warm out, getting ice cream and spending time outside! I love planting flowers in the summer. Every Saturday night my boyfriend and I have a date night; our favorite places to go are One World, Publik House, and Brienzo's! But perhaps my favorite "hobby," if you can call it that, is shopping. Target, Home Goods, Anthropologie, and local boutiques are my weakness!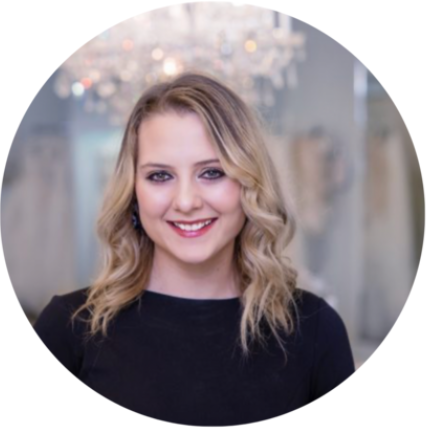 ANNA
BRIDAL STYLIST
I went to college and have my degree in administrative business. While in college I worked at a local bridal boutique and I found my love for bridal there. After graduating I worked as an event planner and worked my way up to be a wedding planner. Covid hit and my life changed I was brought back to working bridal at Cloud Nine and it was the best decision I ever made

I'm in bridal because I have a love for fashion! I get the opportunity to help ladies find a garment that is the most important piece of clothing they will ever wear. It's such an honor and I love going through the journey with every single unique bride to find her a dress she feels unstoppable in. It's such a special moment that I get to take part in

I got married in November of 2019 to my college sweetheart. We had our first beautiful baby girl, Hazel, in February of 2022. Now we are expecting another sweet baby girl this October of 2023. We have a Great Dane named Dax. He is 9 months and already 110 pounds! Outside of work, my family loves volleyball! I played in college and my husband and I both play in indoor league and sand volleyball

My favorite local restaurants are Asia Grill or Ancho and Agave! Both so yummy
My favorite drink is either iced tea or a strawberry refresher from Starbucks.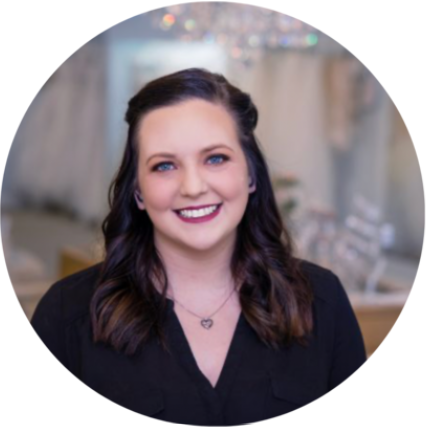 TAYLOR
BRIDESMAID STYLIST
I have always loved every aspect and detail of weddings. Loved helping all my friends plan their weddings and had an amazing time planning mine. I got into bridal for a fun side gig but have learned and gained so much since joining Cloud Nine. I have learned to love each and every person who walks through our doors as if they are my family already. I have grown in my own confidence and can in turn ensue that into my brides. My favorite part of weddings is the dancing with friends and family and an absolute must-have is good food, good dessert, and a great DJ! I have been married for almost 4 years with 3 fur babies: 2 cats, and 1 dog. My favorite outside-of-work hobby is hanging out with friends and kickboxing. My favorite local restaurant is currently Sushi Ko!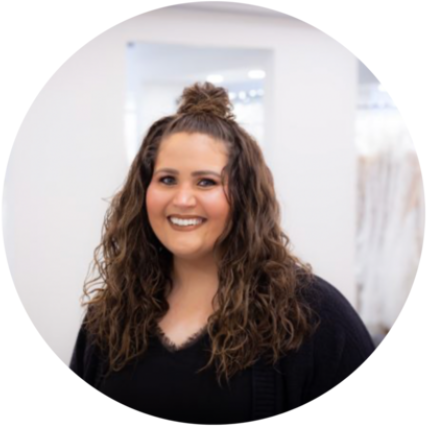 MARISSA
BRIDAL STYLIST
I graduated with my bachelors degree from Bradley University where I majored in Political Science with a minor in Criminal Justice. I got into bridal because I met the ladies at Cloud Nine from a previous experience and loved the crew. They always made me feel welcome and treated me like family no matter what was going on in my life.

I work part time as I have a full time job elsewhere. I'm so thankful to be apart of the Cloud Nine team, and I love getting to know brides, hearing their story and helping them find the dress of their dreams!

My favorite part of a wedding is the pictures! I feel like the actual day will come and go, but photos are a must! If you have a good photographer then you'll be able to look back on those memories for decades!

I'm currently dating a great guy from Tremont and we've been together for almost 1 year. I don't have any pets at the moment. I love to go to concerts, workout, hangout with friends and family in my spare time.

My favorite local restaurant is Brienzos! They have amazing salads and wood fired pizza! My favorite drink is coffee - especially Starbucks!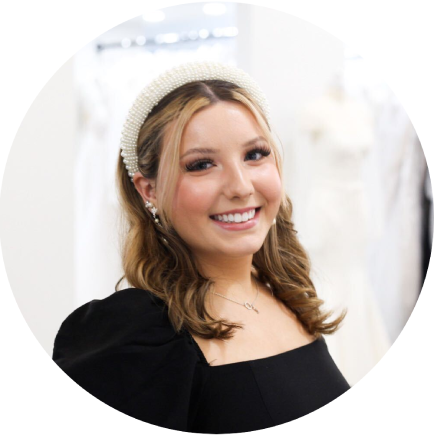 CHLOE
I'm in bridal because I love the work environment and the vibes and joy I get. I love working here because it's a place I'm always happy to be at work and all the employees here are like family and such positive people. I work with the girls during prom season and it is such a fun time! I love all the girls that come in and I'm honored to help them with this exciting time of their life! My boyfriend Jonah and I have been dating for two years. I love sushi from anywhere and coffee is my weakness!